Viewing posts for the category debconf13
I was very excited to go to Debconf13, but in the last minute I caught some kind of virus and went down with fever in the night before the flight. I am sure Wouter will take over group photo duties. And I will just take this week of vacation to rest up and check out the video streaming :)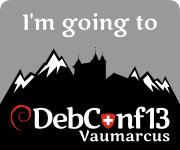 I also soon will be on my way to Debconf13 and those who asked for more photos from the place on Planet Debian will soon start getting their fill ;)
The meeting was as long as the kernel changelog, the decision was as difficult as a Debian release, but in the end Le Camp has won in the voting 5 to 4. It was lucky that one member of the 10 man committee was not present or we could have had a tie, just like there was one in the first round of voting.
http://lists.debconf.org/lurker/message/20111110.144615.333c5288.en.html
Es gribu sarīkot Debian ikgadējo konferenci - Debconf Latvijā. Pašlaik notiek konkurss par to, kur rīkot 2013. gada konferenci - Debconf13. Par šo iespēju bez Latvijas cīnās arī: Berlīne (DE), Cambridge (UK), Griekija, Istanbul (Turcija), Šveice un Vienna (AT). Šī ir ļoti saspringta cīņa un lai uzvarētu un redzētu Debconf13 Rīgā man ir nepieciešama visu jūsu palīdzība.