Viewing posts for the category debian
Debconf17 has come and gone by too fast, so we all could use a moment looing back at all the fun and serious happenings of the main event in the Debian social calendar. You can find my full photo gallery on Google, Flickr and Debconf Share.
At the end of the previous part of this tale of travel and cars I was being dunk around the heavy waves of the azure variety against the hard stones of the Med coast near Nice, France. The next stop was a wild card before going to Venice and so a small hotel was chosen high above a mountain lake in northern Italy.  This meant that the whole day was to be spent crossing the top of Italy from Med to Alps. Italy has very nice paid motorway system that makes crossing large distances easy, but not really cheap. One larger drive cost just over 40€ alone. But there are benefits - the speed is nice (not autobahn-nice, but still) and there is also the amazing thing called AutoGrill this looked like just a regular road-side fast food joint, but that was until we looked closer. There was a wide selection of nice salads, there was a freshly grilled meat pepared per order lots of wine by glass and a huge selection of Italian wines and pasta to buy. It was amazing. Maybe because our expectations were rather low, but it was truly good food. We saw many AutoGrills after that, even outside of Italy, but the ones outside of Italy were not as great.
As planned previousely I did go to Debconf15 with my new car. It was a completely new experience for me. The longest car trip that had completed before this was a 600 km drive after Debconf14 from Portland, Oregon, USA to Vancouver, Canada and back and that was just a couple days with just under 6 hours of max driving in one of the days. This was to be much, much more than that.
A bi-lingual poem created on inspiration from Debconf15 and in honor of Debconf Poetry Night by Rhonda
The long awaited group photo from Debconf15 is now available: here and here.
TL/DR: I am going by car on route Riga-Warsaw-Dresden-Debconf15-Lyon-Genoa-Venice-Vienna-Riga and I can take passengers along the way too.
Recently the discussions around how to distribute third party applications for "Linux" has become a new topic of the hour and for a good reason - Linux is becoming mainstream outside of free software world. While having each distribution have a perfectly packaged, version-controlled and natively compiled version of each application installable from a per-distribution repository in a simple and fully secured manner is a great solution for popular free software applications, this model is slightly less ideal for less popular apps and for non-free software applications. In these scenarios the developers of the software would want to do the packaging into some form, distribute that to end-users (either directly or trough some other channels, such as app stores) and have just one version that would work on any Linux distribution and keep working for a long while.
It's that time of the year, again, when I lan to go to Debconf, reserve vacation, get visa waiver, book tickets. Let's hope nothing blocks me from attending this time. It has been too long.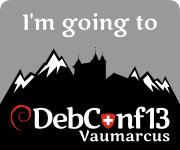 I also soon will be on my way to Debconf13 and those who asked for more photos from the place on Planet Debian will soon start getting their fill ;)
Remember when Linus Torvalds lambasted NVidia for not supporting their Optimus technology in their Linux drivers for half a decade and counting? Well, I went out and bought an AMD/ATi video card as mu upgrade. And you know what? Its Linux drivers are far, far worse than NVidia.
1. Most of the games I had working fine on NVidia, do not work on AMD. And those that do suffer far more visual corruption, synchronization bugs (like bottom 40% of the screen rendering half a second after the top 60%), strange visual artifacts (weird triangles popping out of everywhere) and crashes, lots of crashes.
2. There were crashes with NVidia too, but NVidia never managed to crash Compiz along with it or crash the whole X server or lock up the system so far that only SysRq works or even lock up the system so far that only powering it off manually works.
3. And then there is the configuration atrocity. Apparently AMD is too good to store its configuration in /etc/X11/xorg.conf. Or even to document the supported options there. Instead they have their own (also undocumented) configuration file in /etc/ati folder. And it is undocumented because it is a cryptic mess and the only supported way to change it is to use their tools - aticonfig and amdccccle. The command line tool is almost reasonable, except it is also barely documented. For example, one of my screens somehow was always stared at 1920x1080@30Hz. There were 3 different ways to specify default resolution, but none of them used or saved the refresh rate. And when I changed it in the GUI tool - the refresh rate did change, but it was never saved. Oh there nowhere is a save button. It 'just works', except when it doesn't. Like: both of my screens for some reason started with huge black borders around the screen, I finally narrowed it down to the GUI setting "overscan" which defaulted to 10%. Ok, so I change it, it works, but next time I reboot, the overscan is back! I had to find an undocumented invocation of the aticonfig that would change the default value to 0%. Why did this one setting not save? Oh and fun note - the refresh rate of that second screen was correct on the login screen, but it then swiched back as I logged in. Fun, huh?
4. Even at basic desktop tasks fglrx if inferior to not only the free driver, but also to the nvidia driver - even simple scrolling of a large folder in nautilus seems to tax the 200$ card to its limits - the bottom row blinks into place almost half a second after I stop scrolling. Another example - with NVidia when I switch my TV to the HDMI input from the card, the sound starts at the same moment as the picture, however with AMD the sound only decides to show up 10-15 seconds later. And sometime it does not show up at all, unless I start the AMD Control GUI tool and only then the sound shows up 15 seconds later (without doing anything in the GUI).