Viewing posts for the category event
The main feed for my photos from Debconf 19 in Curitiba, Brazil is currently in my GPhoto album. I will later also sync it to Debconf git share.
Enjoy the Debconf18 group photo and also the rest of my photos from Debconf18.
Debconf17 has come and gone by too fast, so we all could use a moment looing back at all the fun and serious happenings of the main event in the Debian social calendar. You can find my full photo gallery on Google, Flickr and Debconf Share.
TL/DR: I am going by car on route Riga-Warsaw-Dresden-Debconf15-Lyon-Genoa-Venice-Vienna-Riga and I can take passengers along the way too.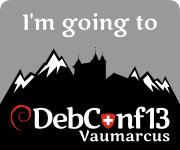 I also soon will be on my way to Debconf13 and those who asked for more photos from the place on Planet Debian will soon start getting their fill ;)
The meeting was as long as the kernel changelog, the decision was as difficult as a Debian release, but in the end Le Camp has won in the voting 5 to 4. It was lucky that one member of the 10 man committee was not present or we could have had a tie, just like there was one in the first round of voting.

The group picture of the Debconf11 has been up for 33 hours now and finally I also had a moment of time to make the numbered version so you can add peoples names to it.
I had planned long for this Debconf and with the experience from the previous times I did all I could to reach one goal - minimise stress. I think I got it right this time.
The following is an invitation to the Latvian Ubuntu Bug Jam (in Latvian) sent for a bit of a wider circulation to catch people that monitor Planet Debian, but not Planet Ubuntu.lv.
As soon as my laptop came back from repairs, I started to feel better - being back with 1920x1200 resolution is great! NVidia is much more stable than ATi and Intel wireless is just great!