Viewing posts for the category photo
The main feed for my photos from Debconf 19 in Curitiba, Brazil is currently in my GPhoto album. I will later also sync it to Debconf git share.
Enjoy the Debconf18 group photo and also the rest of my photos from Debconf18.
Debconf17 has come and gone by too fast, so we all could use a moment looing back at all the fun and serious happenings of the main event in the Debian social calendar. You can find my full photo gallery on Google, Flickr and Debconf Share.
At the end of the previous part of this tale of travel and cars I was being dunk around the heavy waves of the azure variety against the hard stones of the Med coast near Nice, France. The next stop was a wild card before going to Venice and so a small hotel was chosen high above a mountain lake in northern Italy.  This meant that the whole day was to be spent crossing the top of Italy from Med to Alps. Italy has very nice paid motorway system that makes crossing large distances easy, but not really cheap. One larger drive cost just over 40€ alone. But there are benefits - the speed is nice (not autobahn-nice, but still) and there is also the amazing thing called AutoGrill this looked like just a regular road-side fast food joint, but that was until we looked closer. There was a wide selection of nice salads, there was a freshly grilled meat pepared per order lots of wine by glass and a huge selection of Italian wines and pasta to buy. It was amazing. Maybe because our expectations were rather low, but it was truly good food. We saw many AutoGrills after that, even outside of Italy, but the ones outside of Italy were not as great.
The long awaited group photo from Debconf15 is now available: here and here.
It's that time of the year, again, when I lan to go to Debconf, reserve vacation, get visa waiver, book tickets. Let's hope nothing blocks me from attending this time. It has been too long.
For a while now I've been looking for ways to improve my photo workflow - to simplify and speed up the process. Now I've gotten a new toy to help that along - a Panasonic FlashAir SD card with WiFi connectivity. I was pretty sure that build-in workflows of some more automated solutions would not be a perfect fit for me, so I got this card which has a more manual workflow and a reasonable API, so I could write my own.
I've been with Flickr since 2005 now, posting a lot of my photos there, so that other poeple from the events, that I usually take photos of, could enjoy them. But lately I've become annoyed with it. It is very slow to uplaod to and even worse to get photos out of it - there is no large shiny button to Download a set of photos, like I noticed in G+. So I decided to try and copy my photos over. I am not abandoning or deleting my Flickr account yet, but we'll see.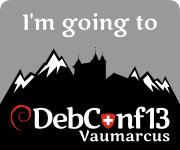 I also soon will be on my way to Debconf13 and those who asked for more photos from the place on Planet Debian will soon start getting their fill ;)