Viewing posts for the category Ubuntu.lv-planet
Debconf17 has come and gone by too fast, so we all could use a moment looing back at all the fun and serious happenings of the main event in the Debian social calendar. You can find my full photo gallery on Google, Flickr and Debconf Share.
After a long contemplation about what I want to do with my life and just as long a negotiation, I have accepted a job offer at BMW and will be moving from Latvia to Ulm, Germany in January 2016.
The long awaited group photo from Debconf15 is now available: here and here.
Recently the discussions around how to distribute third party applications for "Linux" has become a new topic of the hour and for a good reason - Linux is becoming mainstream outside of free software world. While having each distribution have a perfectly packaged, version-controlled and natively compiled version of each application installable from a per-distribution repository in a simple and fully secured manner is a great solution for popular free software applications, this model is slightly less ideal for less popular apps and for non-free software applications. In these scenarios the developers of the software would want to do the packaging into some form, distribute that to end-users (either directly or trough some other channels, such as app stores) and have just one version that would work on any Linux distribution and keep working for a long while.
I've been with Flickr since 2005 now, posting a lot of my photos there, so that other poeple from the events, that I usually take photos of, could enjoy them. But lately I've become annoyed with it. It is very slow to uplaod to and even worse to get photos out of it - there is no large shiny button to Download a set of photos, like I noticed in G+. So I decided to try and copy my photos over. I am not abandoning or deleting my Flickr account yet, but we'll see.
Whatever you do with translations, consider translation management issues. For example, you are developing a multilingual web site. All kinds of labels and buttons and form fields are nicely translatable with trans template tag and ugettext. You have po files that follow your code from dev to stage to production environment.
Now you add a CMS into the mix. And suddenly - you translations are in more than one place, in more than one format and follow different routes to production.
Now imagine that you need to add Chinese language to your entire site. The translator is an off-site contractor. What files would you send to him to translate? How would you generate them? How will you integrate them?
If someone adds or changes a page on production in English: how will your developers see that change? how will you know that an updated translation for Chinese is needed? how will you manage the update of the translation?
If you make a CMS and don't have at least the export_po_file and import_po_file management commands, then you are not really multilingual. It is either that or figuring out your own answer for the above questions.
I have finally found a Django-based CMS that has those - http://pythonhosted.org/django-page-cms/ . Have not really tried it yet, but I am hopeful.
After my server that has hosted my blog for some years had given out its last breath (second motherboard failure), I decited it was time for a change. And not just server change, but also change in the blog engine itself. As I now focus on Python and Django almost exclusively at work, it felt logical to use some kind of Django-based blog or CMS. I tried django-cms and mezzanine and ... Mezzanine is so fast and simple, that I simply stopped looking.
I was very excited to go to Debconf13, but in the last minute I caught some kind of virus and went down with fever in the night before the flight. I am sure Wouter will take over group photo duties. And I will just take this week of vacation to rest up and check out the video streaming :)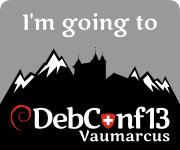 I also soon will be on my way to Debconf13 and those who asked for more photos from the place on Planet Debian will soon start getting their fill ;)
So, the price of heating my apartment has gone up significantly since last year and a lot of people have noticed the same trend. As a geek, I want not just any solutions, but geekiest solutions possible to that - enter a Smart Home system. The heating in my apartment is separated from all other apartments with a separate heat meter that measures both heating water flow and the temperature difference on the incoming and outgoing pipes, so if I reduce the heating consumption I will immediately see that in lower heating bills. This particular smart home system is very simple and made in Latvia and also relatively cheap, so I decided to give this a try.