Viewing posts for the category Ubuntu.lv-planet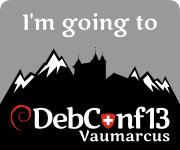 I also soon will be on my way to Debconf13 and those who asked for more photos from the place on Planet Debian will soon start getting their fill ;)
So, the price of heating my apartment has gone up significantly since last year and a lot of people have noticed the same trend. As a geek, I want not just any solutions, but geekiest solutions possible to that - enter a Smart Home system. The heating in my apartment is separated from all other apartments with a separate heat meter that measures both heating water flow and the temperature difference on the incoming and outgoing pipes, so if I reduce the heating consumption I will immediately see that in lower heating bills. This particular smart home system is very simple and made in Latvia and also relatively cheap, so I decided to give this a try.
An interesting question popped up in my Twitter stream today - is there an Android alternative to Apple configurator (for iPhone, iPad and iPod Touch) that allows to create a bunch of identical Apple devices with some added configurations and applications. The best I could come up with is not as polished, but on the other hand much more powerful option - Nandroid backup and restore (also known as ClockworkMod Recovery backup).
I am trying to get used to fish as a default shell. I like some things in it, but can not quite get used to other things, so I wonder - maybe I am cooking it wrong? So here are things that I could not find a solution for, while switching from bash.
So, I was reading the coverage of the newly announced Canon 650D last week and it so happened that a friend needed a camera, so I sold my old Canon 550D and started looking for a replacement.
Palasot pēdējā laika diskusijas par e-balsošanu cilvēkiem dažreiz nolaižas rokas un liekas, ka labāk aizmirst par e-balsošanu - jo redz nevar būt droši un tāpēc labak to nedarīt vispār. Izmanto pat frāzes kā 'NP complete', lai atbaidītu cilvēkus.
The meeting was as long as the kernel changelog, the decision was as difficult as a Debian release, but in the end Le Camp has won in the voting 5 to 4. It was lucky that one member of the 10 man committee was not present or we could have had a tie, just like there was one in the first round of voting.
Pēdējās nedēļas laikā Interneta vidē gan Latvijā, gan pasaulē ir uzbriedis pamatīgs sašutuma vilnis par ACTA vienošānās parakstīšanu, ko nesen veica vairāku valstu pārstāvji, arī Latvijas pārstāvis.
http://lists.debconf.org/lurker/message/20111110.144615.333c5288.en.html
Es gribu sarīkot Debian ikgadējo konferenci - Debconf Latvijā. Pašlaik notiek konkurss par to, kur rīkot 2013. gada konferenci - Debconf13. Par šo iespēju bez Latvijas cīnās arī: Berlīne (DE), Cambridge (UK), Griekija, Istanbul (Turcija), Šveice un Vienna (AT). Šī ir ļoti saspringta cīņa un lai uzvarētu un redzētu Debconf13 Rīgā man ir nepieciešama visu jūsu palīdzība.